HPE GreenLake for Healthcare

Consumption-based solutions to transform IT delivery for the healthcare industry.

An industry in need
Healthcare institutions face a growing list of challenges—some due to the COVID-19 pandemic, others years in the making. A rapidly aging population and a rise in chronic conditions are driving up demand, while a growing shortage of healthcare workers and unsustainable increases in healthcare costs are straining providers and economies alike. These global trends have created a critical need for transformative innovation in the sector, combining increased efficiency with improved experience and outcomes. HPE GreenLake can help power this transformation, with healthcare technology solutions that combine proven performance, industry expertise, and as-a-service delivery that removes financial barriers to technological advancement.
HPE GreenLake: Innovation in healthcare IT delivery
Modern healthcare suffers from significant technological needs coupled with strained capital budgets and extended approval cycles. When IT infrastructure is delivered as a service, you gain the ability to add on-premises resources that offer cloud-like flexibility without up-front capital cost. Consumption-based billing allows you to tie costs to business outcomes, and a managed-for-you model lets you make more efficient use of your in-house IT resources. HPE Financial Services can even help you fund your transition with solutions to recover value from your current assets.
---
Consumption and cost transparency
The HPE GreenLake Central platform provides detailed dashboard views of resource consumption, compliance status, and even costs. It further allows IT managers to deploy services and simplify management across their entire hybrid IT estate.
Performance and compliance
On-premises solutions delivered through HPE GreenLake align to requirements for data sovereignty and security while reducing latency and eliminating data egress costs. In addition, available solutions can provide system-wide views of regulatory and governance requirements.
Scalability and flexibility
Traditional infrastructure purchases require you to balance current need against future demand. HPE GreenLake provides pay-per-use, scale-up-and-down freedom: you provision and pay for the resources you use today, while you have the confidence of ready access to additional capacity when you need it.
Experience HPE GreenLake cloud services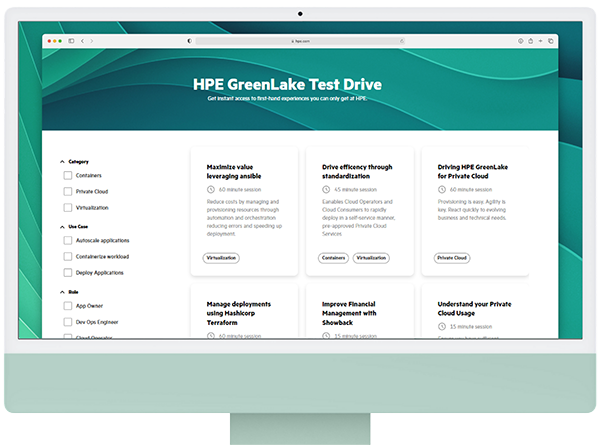 Explore more healthcare customer stories
Browse the below case studies to see how customers are using HPE GreenLake to drive patient and business outcomes.
Prisma Health: A consumption model for healthcare excellence
---
Prisma Health, the largest not-for-profit health organization in South Carolina, transformed IT operations across several data centers to move to a completely digital health record system, increase the quality of telehealth technologies, and deliver stability for reliable patient care. With HPE GreenLake, Prisma Health was able to deliver scalability for future expansion, support a fully paperless medical record system, and enable better patient outcomes through improved data analysis.
University Hospital of Bonn switches to all-flash data storage with HPE GreenLake
---
To meet the growing needs of its medical departments, its research institutes, and its business operations, the University Hospital of Bonn was looking for faster and highly scalable data storage systems. Using HPE GreenLake, the hospital was able to move to all-flash storage on a pay-per-use basis.
Flevoziekenhuis builds a data platform of the future with HPE 3PAR and HPE GreenLake
---
Facing an exponential increase in the scale and velocity of data that it must manage in order to deliver high-quality patient care, while also contending with government health care regulations, Flevoziekenhuis turned to HPE GreenLake for a flexible storage solution.