HPE StoreEver MSL3040 Tape Library

Tape Storage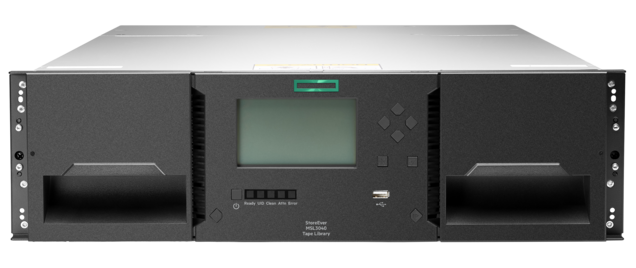 HPE Products
HPE Tape Storage
HPE StoreEver MSL3040 Scalable Base Module
Includes: 2.5M PDU Power Cord, Rack-Mount Kit and Power Supply
#Q6Q62B
Our Price: $7,350.00
Click here to jump to more pricing!
Overview:
Is the global trend of exponential data growth affecting your business? The highly scalable HPE StoreEver MSL3040 Tape Library provides small to mid-sized organizations with flexibility for long-term data protection and retention of data storage assets. With its modular design and ability to reuse existing HPE MSL LTO upgrade drive kits, you can cost-effectively store up to 8.4PB1 of data. The HPE StoreEver MSL3040 Tape Library offers exceptional enterprise features and functionality as standard providing advanced security features and reliability. It delivers a tape storage solution that addresses backup and long-term data management challenges such as storing medical records, video surveillance files or for business compliance.
MSL3040 Base Module now supports 40 slots
1 280 slots with LTO-8 media compressed 2.5:1
Pricing Notes:
Pricing and product availability subject to change without notice.
HPE Products
HPE Tape Storage
HPE StoreEver MSL3040 Scalable Base Module
Includes: 2.5M PDU Power Cord, Rack-Mount Kit and Power Supply
#Q6Q62B
Our Price: $7,350.00
HPE MSL Drives Addition
HPE MSL LTO-6 Ultr 6250 FC Drive Kit
#C0H28A
Our Price: $5,300.00
HPE MSL LTO-6 Ultr 6250 SAS Drive Kit
#C0H27A
Our Price: $5,100.00
HPE MSL LTO-7 FC Drive Upgrade Kit
#N7P36A
Our Price: $6,901.00
HPE MSL LTO-7 SAS Drive Upgrade Kit
#N7P37A
Our Price: $6,766.00
HPE MSL LTO-8 FC Drive Upgrade Kit
#Q6Q67A
Our Price: $8,495.00
HPE MSL LTO-8 SAS Drive Upgrade Kit
#Q6Q68A
Our Price: $7,964.00
HPE MSL Support
3 Years Foundation Care 24x7 for MSL3040 Service
#HH6W3E
Our Price: $5,095.00