HPE StoreEver MSL3040 Tape Library

Tape Storage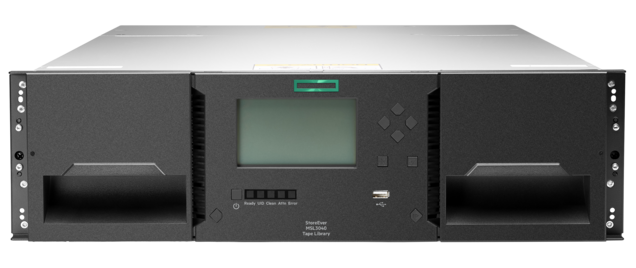 HPE Products
HPE MSL Tape Library
HPE StoreEver MSL3040 Scalable Base Module
Includes: 2.5M PDU Power Cord, Rack-Mount Kit and Power Supply
#Q6Q62B
Our Price: $3,570.00
Click here to jump to more pricing!
Overview:
Is the global trend of exponential data growth affecting your business? The highly scalable HPE StoreEver MSL3040 Tape Library provides small to mid-sized organizations with flexibility for long-term data protection and retention of data storage assets. With its modular design and ability to reuse existing HPE MSL LTO upgrade drive kits, you can cost-effectively store up to 8.4PB1 of data. The HPE StoreEver MSL3040 Tape Library offers exceptional enterprise features and functionality as standard providing advanced security features and reliability. It delivers a tape storage solution that addresses backup and long-term data management challenges such as storing medical records, video surveillance files or for business compliance.
MSL3040 Base Module now supports 40 slots
1 280 slots with LTO-8 media compressed 2.5:1
Features:
Highly Scalable for Greater Flexibility
The HPE StoreEver MSL3040 Tape Library allows you to grow your storage capacity seamlessly with a single, scale-out architecture solution that addresses both your short-term and long-term storage needs.
Scale vertically from 40 to 280 cartridge slots to store up to 8.4PB in a single 19-inch rack simply adding additional modules to boost performance and capacity without the need to invest in a whole new library.
Add between 1 and 21 LTO-8, LTO-7 or LTO-6 half height SAS or Fibre Channel (FC) drives. Drives and expansions are easily installed and configured, these upgrades are fast and non-disruptive.
Cost Effective Tape Storage Solution
The HPE StoreEver MSL3040 Tape Library offers 13 cartridge slots or 390 TB1 of capacity per 1U of rack space, scaling from 40 to 280 slots with a single expandable library, there is no need to replace it as your requirements grow.
For investment protection, you can reuse LTO-6, LTO-7 or LTO-8 MSL2024, 4048 and 6480 tape drives in the HPE MSL3040 Tape Library.
Partitioning allows each partitioned library to be presented to the host as an independent library, separate from other partitions in the library.
Enterprise-class Manageability and Reliability
The HPE StoreEver MSL3040 Tape Library reduces human intervention and error by freeing up your resources with automated, consolidated and simplified data protection and archive capabilities adding more to your bottom line.
With the unique Hewlett Packard Enterprise Web-based remote management and diagnostics tools, the HPE StoreEver MSL3040 Tape Library can be managed, configured and used from across the room or across the globe.
HPE TapeAssure Advanced will proactively and intelligently monitor utilization, performance and overall life and health of the library, drives and media.
Reduce Risk with Advanced Security Features and Reliability
The HPE MSL3040 Tape Library offers multiple options to safeguard your data in the library or offsite with data encryption, depending on the requirements for policy, regulation, compliance, and centralized key management.
HPE Secure Manager License provides an additional level of security that lets you control access to the tape library by authorizing specific servers. It increases reliability by blocking disruptive traffic from unauthorized hosts to the library.
High availability path failover uses host drivers in conjunction with library and drive firmware to manage multiple paths across multiple SANs. It presents a single drive or robot path to applications and automatically transfer commands to an alternate path if the original one is lost.
1 13 slots with LTO-8 media compressed 2.5:1
Specifications:
HPE StoreEver MSL3040 Tape Library Specifications
Drive type
LTO-8 Ultrium 30750 LTO-7 Ultrium 15000 LTO-6 Ultrium 6250. Available with SAS and Fibre Channel interfaces
Capacity
Up to 8.4 PB, maximum assuming 280 slots with LTO-8 compressed 2.5:1
Host interface
Supports 8 Gb/s Fibre Channel or 6 Gb/s SAS tape drives
Transfer rate
Up to 72.45 TB/hr with 21 LTO-8 drives compressed 2.5:1
Number of cartridge slots
40 slots for the base module 40 slots per expansion module Scale from 40 to 280 slots in a fully expanded HPE MSL3040 Tape Library
Encryption capability
Depending on drive type purchased
Form factor
3U per module to a maximum of 21U
Warranty
1-year parts, 1-year labor, 1-year onsite support coverage. For more warranty information refer to https://h20564.www2.hpe.com/hpsc/wc/public/home.
Services:
HPE Pointnext
HPE Pointnext leverages our breadth and depth of technical expertise and innovation to help to accelerate digital transformation. A comprehensive portfolio that includes—Advisory, Professional, and Operational Services is designed to help you evolve and grow today and into the future.
Operational Services
HPE Flexible Capacity is a new consumption model to manage ondemand capacity, combining the agility and economics of public cloud with the security and performance of on-premises IT.
HPE Datacenter Care offers a tailored operational support solution built on core deliverables. It includes hardware and software support, a team of experts to help personalize deliverables and share best practices, as well as optional building blocks to address specific IT and business needs.
HPE Proactive Care is an integrated set of hardware and software support including an enhanced call experience with start to finish case management helping resolve incidents quickly and keeping IT reliable and stable.
HPE Foundation Care helps when there is a hardware or software problem offering several response levels dependent on IT and business requirements.
Advisory Services includes design, strategy, road map, and other services to help enable the digital transformation journey, tuned to IT and business needs. Advisory Services helps customers on their journey to Hybrid IT, Big Data, and the Intelligent Edge.
Professional Services helps integrate the new solution with project management, installation and startup, relocation services, and more. We help mitigate risk to the business so there is no interruption when new technology is being integrated in the existing IT environment.
Pricing Notes:
Pricing and product availability subject to change without notice.
HPE Products
HPE MSL Tape Library
HPE StoreEver MSL3040 Scalable Base Module
Includes: 2.5M PDU Power Cord, Rack-Mount Kit and Power Supply
#Q6Q62B
Our Price: $3,570.00
HPE MSL Drives Addition
HPE MSL LTO-6 Ultr 6250 FC Drive Kit
#C0H28A
Our Price: $2,703.00
HPE MSL LTO-6 Ultr 6250 SAS Drive Kit
#C0H27A
Our Price: $2,601.00
HPE MSL LTO-7 FC Drive Upgrade Kit
#N7P36A
Our Price: $3,251.00
HPE MSL LTO-7 SAS Drive Upgrade Kit
#N7P37A
Our Price: $3,188.00
HPE MSL LTO-8 FC Drive Upgrade Kit
#Q6Q67A
Our Price: $4,080.00
HPE MSL LTO-8 SAS Drive Upgrade Kit
#Q6Q68A
Our Price: $3,825.00
HPE MSL Support
3 Years Foundation Care 24x7 for MSL3040 Service
#HH6W3E
Our Price: $2,598.00