Flash Storage Solutions for Server Virtualization

A Single Platform for Virtualized Workloads

The HPE Nimble Storage Predictive Flash platform enables businesses to deploy a single platform for all of their virtualized workloads. Deliver absolute performance, scale without disruption as you add Virtual Machines (VMs) to your virtualized server network, and manage storage as just another aspect of the virtualized environment.
Overview:
HPE Nimble Storage delivers these benefits for server virtualization:
Price/ Performance: Flash-optimized hybrid storage, inline compression, high-capacity disk, and zero-copy cloning deliver capacity reductions of up to 75 percent
Seamless Scaling: Easily scale performance and capacity independently without downtime to meet the demands of growing workloads
Business Continuity: High availability and efficient data protection minimize downtime during both local failures and larger site-wide disasters
Simplified Management: InfoSight™ provides detailed visibility into performance and latency in virtualized environments, enabling customers to proactively identify and resolve VM resource contention issues without unnecessary and expensive upgrades
Server Virtualization Solutions with Microsoft and VMware
HPE Nimble Storage server virtualization solutions are deeply integrated with Microsoft and VMware. Learn more:
Adaptive Flash Storage for Microsoft Windows Server with Hyper-V
Adaptive Flash Storage for VMware vSphere
Increase Virtual Machine Performance

Run virtualized applications faster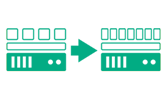 Consolidate more virtualized applications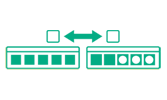 Move VMs between all-flash and adaptive flash to meet changing performance needs
Integrate with Virtualized Environments Seamlessly
Offload VM data services from the server, provide seamless disaster recovery, manage and provision your Nimble array directly from your VM console.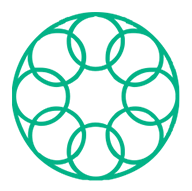 Take the Guesswork Out of Scaling Your Virtualized Server Infrastructure

Deduplication and compression ensures a cost-effective 'right-sized' deployment

Scale from small to large deployments seamlessly and non-disruptively