Nimble InfoSight

Rethinking the Storage Lifecycle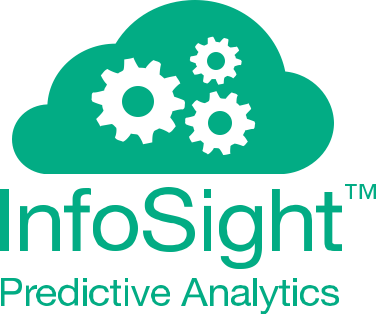 HPE Products
HPE Nimble Storage Technology & Products
Nimble InfoSight
#nimble-infosight
Get a Quote!
Overview:
Confidently meet your workload SLAs with actionable intelligence to preempt issues, achieve peak storage health, and forecast and manage future growth.
HPE Nimble Storage customers enjoy an entirely unique storage lifecycle management experience, driven by powerful, sophisticated data analytics and cloud connectivity. This experience is centered around HPE Nimble Storage InfoSight™ which integrates, automates, and substantially simplifies storage administrative tasks, ensuring the optimal health of all HPE Nimble Storage arrays.
InfoSight, an integral part of Nimble's Adaptive Flash platform, ensures the peak health of storage infrastructure by identifying problems, and offering solutions, in real time. InfoSight provides expert guidance for deploying the right balance of enterprise storage resources — dynamically and intelligently — to satisfy the changing demands of business-critical applications.
InfoSight is a cloud-connected deep-data-analytics engine that radically improves customers' IT operations. It enables IT administrators to efficiently optimize workloads and deliver SLAs, proactively avert performance problems, monitor data protection, and accurately forecast capacity.
Available instantly from the cloud, InfoSight integrates and automates disparate administrative tasks. An example: Its VM-level monitoring intelligence provides IT with insights at the granularity of each VM, and actionable recommendations on how to address conditions where an application may consume more than its allotted resources.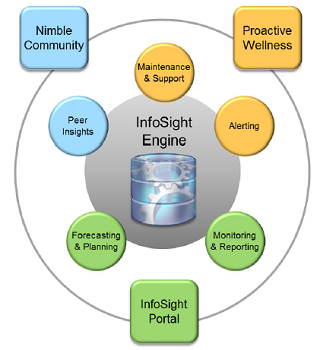 InfoSight enables organizations to:
Analyze storage performance and accurately diagnose and preempt issues in real-time to maintain peak storage health
Easily meet changing SLAs on-the-fly with expert guidance on storage resource planning
Enhance performance and latency visibility in heavily-virtualized VMware environments
Proactively identify and resolve VM resource contention issues and avoid costly unnecessary storage upgrades
Streamline storage management and reporting via a single cloud-connected portal for enhanced operational efficiency and productivity
InfoSight consists of:
The InfoSight Engine: A data collection and analysis engine comprised of powerful analytics, system modeling capabilities, and predictive algorithms.
The InfoSight Portal: A secure online portal which serves as a window into the InfoSight Engine.
Proactive Wellness: Proactive alerts for system health, performance, and protection gaps. Performance correlation analytics quickly identify leading factors contributing to performance or latency issues.
This "deep data" approach to customer support delivers storage health insights that can be leveraged to streamline maintenance by enabling granular alerting, accurate forecasting, and a level of overall storage health insight that vastly improves productivity and optimizes system availability.
InfoSight Benefits:
Manageability: InfoSight is cloud-based, so agents or data collection infrastructure do not have to be installed in the datacenter. All updates are instantly available.
Usability: InfoSight enables proactive system health and support. Insightful and actionable information is presented through intuitive dashboards, including performance correlation analytics.
Accessibility: InfoSight can be accessed from anywhere, anytime, on any device. One-click reporting and export capabilities make it the simplest way to monitor and manage HPE Nimble Storage environments. Registered Nimble resellers can also request access to their customers' InfoSight portals, allowing them to be more proactive.
Features:
Event-Based Alerting
InfoSight's intelligent alerting system enables proactive management of HPE Nimble Storage arrays:
Instant Event Alerts of Storage Performance: Administrators can select from an extensive list of events that trigger an alert, immediately placing their systems on HPE Nimble Storage's radar for monitoring, resolution, and tracking. As a result, support cases are automatically opened, enabling swift action to either prevent or resolve critical issues
Daily Summaries: A summary email of event status can optionally be sent once every day for tracking and documentation purposes
Performance Planning
Detailed systems modeling helps identify performance bottlenecks, and indicates whether increasing cache or upgrading controllers would improve performance of deployed workloads
New performance correlation analytics quickly identify leading factors contributing to performance or latency issues, eliminating what used to take up to several days of manual data collection and analysis.
Comprehensive Dashboard Views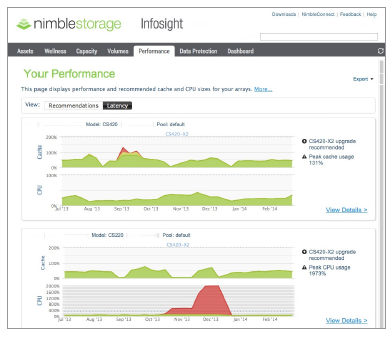 The InfoSight Portal consolidates and presents complex storage health and performance information into an easy to understand, graphical format. The InfoSight Portal's intuitive dashboards include:
Assets: Maps assets to their specific geographic locations and displays their signature information
Capacity: Monitors historical capacity increases and indicates when an array is nearing capacity
Performance: Shows how well the array is performing and when it is under the heaviest load. Provides drill-down information on latencies and cache hit rate
Volumes: Displays detailed metrics on individual volumes, including drill-down information on space used, compression ratios, performance, and other metrics grouped by performance policy or array
Data Protection: Presents the snapshot and replication configuration, along with current operational status
Assets: Maps assets to their specific geographic locations and displays their signature information.
Support: Tracks existing support cases and enables new case creation, if needed
Executive Summary Screen
The executive summary provides a comprehensive view of storage status that includes storage and operational efficiency, data protection, and upgrade needs, enabling managers and executives to understand at a glance how well their storage is performing—including areas that need attention, if any.
Capacity Forecasting
InfoSight's analytics provide the ability to optimize and proactively plan storage capacity through easy to understand graphical information. This enables informed decision making on storage spend.
Powerful, predictive algorithms enable administrators to visualize organic data growth and identify when the array will approach capacity limits
Architecture:
Driving Storage Lifecycle Efficiency With Data Science
Using systems modeling, predictive algorithms, and statistical analysis, InfoSight™ solves storage administrators' most difficult problems. Infosight also ensures storage resources are dynamically and intelligently deployed to satisfy the changing needs of business-critical applications, a key facet of HPE Nimble Storage's Adaptive Flash platform.
At the heart of InfoSight is a powerful engine comprised of deep data analytics applied to telemetry data gathered from Nimble arrays deployed across the globe. More than 30 million sensor values are collected per day per HPE Nimble Storage array.
The InfoSight Engine transforms the millions of gathered data points into actionable information that allows customers to realize significant operational efficiency through:
Maintaining optimal storage performance
Projecting storage capacity needs
Proactively monitoring storage health and getting granular alerts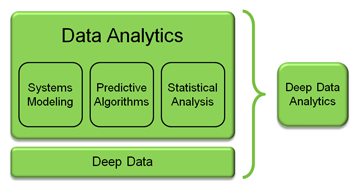 InfoSight Engine Components
InfoSight's data analytics technology operates on a foundation of deep data to enable innovative capabilities:
Systems Modeling: Workload data feeds detailed systems models to generate recommendations on how to improve performance, and the performance correlation capability can diagnose performance or latency issues in minutes
Predictive Algorithms: Historical trends are analyzed intelligently to extract organic data growth rates and predict capacity needs
Statistical Analysis: Continuous pattern matching and event correlation find issues proactively, and trigger alerts to maintain storage health
InfoSight Portal:
InfoSight: A Secure, Cloud-Connected Management Portal
Through the InfoSight™ Portal, customers have a window into the InfoSight Engine. The InfoSight Engine leverages deep data analytics to build a complete picture of the overall health of HPE Nimble Storage arrays across any single or multi-site environment. Administrators no longer have to manually gather and process logs and performance data to identify trends or detect performance issues.
The insights and actionable information presented via the InfoSight Portal help customers adhere to storage best practices and to make intelligent decisions about how to evolve their storage environments to support ever-changing workloads. And now Nimble resellers can request access to their customers' InfoSight Portal and leverage the same information, allowing them to be more proactive in providing recommendations to their customers.
The InfoSight Portal transforms the spectrum of time-consuming storage lifecycle activities into a seamless, instant experience through:
Granular Event-Based Alerting: Customize alerts for monitoring and proactive case generation
Performance Recommendations: Gain insight into the optimal configuration for changing workloads
New Performance Correlation Analytics: Quickly diagnose factors affecting performance, saving hours or days of manual data collection and analysis
Comprehensive Dashboard Views: Get complex storage health and performance information in an easy-to-understand, graphical format
Executive Summary: Build a comprehensive view of storage status that includes space savings, data protection, performance, and upgrade needs
Predictive Analytics: Optimize and proactively plan storage capacity through easy-to-understand graphical information
Proactive Wellness:

HPE Nimble Storage takes a holistic approach to storage system health that increases uptime and maintains arrays in top working condition.
Nimble arrays boast a rock solid and fully redundant design, and include an innovative, proactive support model that automatically resolves more than 80% of problems. Nimble solutions have achieved greater than "five nines" availability, the gold standard for system uptime.