HPE ProLiant MicroServer Gen10 Server

ProLiant MicroServer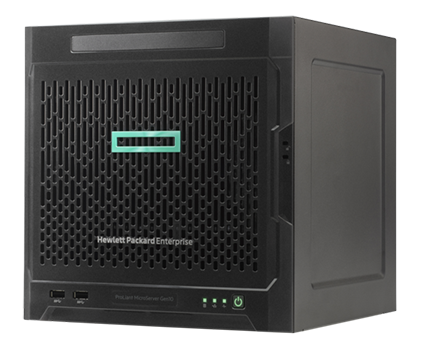 Overview:
Are you a small office, home office, or small business that needs a compact affordable entry level server?
The HPE ProLiant MicroServer Gen10 delivers an affordable compact entry level server specifically designed for small offices, home offices, or small business environments. This compact and easy to use server can be placed almost anywhere. Simple access to hard drives, memory and PCIe slots allow easy management, installation and upgrades. HPE ProLiant MicroServer Gen10 is available with ClearOS Software from HPE3 delivering an intuitive Web based GUI and application marketplace that is pre-loaded on your hard drive, making it ready to use right out of the box. It utilizes the AMD® accelerated processing unit (APU) with graphics cores embedded to improve graphic software performance without installing an additional PCIe graphics adapter.
New North America models available.
New SMB model and offer with quad core AMD Opteron X3418 processor.
Supports extra graphics workload and expands your displaying capability up to five 4K resolution displays with the AMD Radeon™ Pro WX 2100 Graphics Card.
Elevate your network speed and work efficiency with the HPE Dual Port 10Gb Network Adapter.
Load your operating system and boot up more quickly with the HPE 240GB SATA Read Intensive Small Form Factor Solid State Drive.
Build your ideal solution for RAID 5 with the HPE Smart Array E208i-p SR Gen10 Controller.