HPE Integrity NonStop BladeSystem NB56000c

For businesses that run nonstop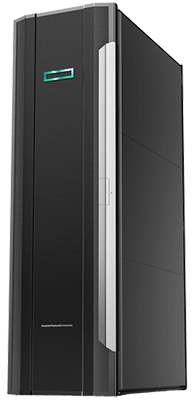 Click here to jump to more pricing!
Overview:
When downtime is not an option
Designed for enterprise workloads that require continuous application availability and extreme scalability, the HPE Integrity NonStop BladeSystem NB56000c is a highly flexible and scalable high-end mission-critical server in the HPE Integrity NonStop systems family. HPE NonStop NB56000c allows you to perform and scale up without incurring downtime or bottlenecks.
Businesses that run the world's most demanding computing environments—from retail, banks, point-of-sale networks, mobile operators, manufacturing execution systems to critical public sector processes—can't afford to be unavailable. They must keep pace with changing business priorities while seeking methods to improve their data center efficiency. Such mission-critical applications are transaction intensive; they experience unpredictable growth and demand the highest levels of availability, scalability, and security.
Consequently, forward-thinking organizations like yours seek a flexible, high-performance server platform that offers the scalability to grow with the business. Also, they require the flexibility to develop and deploy new services rapidly while keeping businesses running uninterrupted 24x7—with industry-leading data integrity and zero downtime.
Leverage a new height in scalability and capacity
The HPE NonStop NB56000c is a 4-core system with a higher performance capacity as compared to HPE NonStop NB54000c. HPE NonStop NB56000c can also be licensed as a 2-core system at a lower software price point. A 2-core licensed HPE NonStop NB56000c can be upgraded to a 4-core licensed HPE NonStop NB56000c to increase system performance capacity at any time during the life of the platform. You can perform core upgrades online without taking the system or applications out of service. HPE NonStop NB56000c combines the economies of newly enhanced standards-based, modular computing with the trusted 24x7 fault-tolerant availability and data integrity of the HPE NonStop architecture. Its enhanced availability, manageability, and development features create a total solutions approach, offering a low total cost of ownership (TCO) for complex mission-critical applications.
HPE Integrity NonStop BladeSystem NB56000c is built on the proven HPE Integrity BL860c i4 server blade and leverages the modular efficiencies of HPE BladeSystem c7000 Platinum enclosure (R3) with fault-tolerant HPE BladeSystem ServerNet doublewide switches. HPE NonStop NB56000c is powered by Intel Itanium processor 9500 series as the processing engine. HPE NonStop OS leverages powerful multicore processing to achieve a significant boost in performance. HPE NonStop OS J-series multicore processor support greatly improves the computing capacity of the platform and extends the acknowledged linear scalability of HPE NonStop systems to a new level.
HPE NonStop NB56000c with the Cluster I/O Modules (CLIMs) provides significant I/O configuration flexibility with IP and Telco CLIMs for communications support. For additional choices, HPE NonStop G16SE is available for communications connectivity. What's more, the HPE NonStop NB56000c with the Storage CLIMs supports both serial-attached SCSI (SAS) internal storage and Fibre Channel (FC) for tape and SAN storage. Support for previous generations of CLIMs and SAS storage subsystems is an additional step toward safeguarding your investments. Additionally, it supports the existing modular I/O subsystems (Input Output Adapter Modular Enclosure [IOAME] and Gigabit Ethernet 4-port ServerNet Adapter [G4SA]) and legacy FC storage subsystems (FC disk modules [FCDM], FC ServerNet Adapter [FCSA])—thereby protecting your existing investments.
Multicore processing allows both scale up and scale out. Compared to HPE NonStop NB54000c, the HPE NonStop NB56000c provides up to a 50% increase in performance capacity per logical processor at a lower cost per transaction. As is typical with other HPE NonStop systems, the HPE NonStop NB56000c scales out through built-in clustering of up to 4080 logical processors (16,320 cores)

Delivers up to 50% more performance capacity in the same data center footprint as compared to a similarly configured HPE NonStop NB54000c
Provides scalability of up to 16,320 cores, up to 192,000 program processes per node, and an incredible 48,960,000 program processes in an Expand network
Offers easy in-rack hardware upgrade when migrating from any previous HPE Integrity NonStop BladeSystem to an HPE Integrity NonStop BladeSystem NB56000c
Saves you money as HPE NonStop NB56000c licensed for two cores per CPU comes at a lower software price point; activates remaining cores at any time during the life of the platform; increases performance capacity in the same footprint, without any hardware changes or application downtime
Provides ready-to-use modern data-in-motion security capabilities (such as secure shell [SSH] and secure sockets layer [SSL] functions) and proven security audit reporting and alerts
Comes configured with redundant CLIM OS disks in a RAID 1 configuration
Pricing Notes:
Pricing and product availability subject to change without notice.